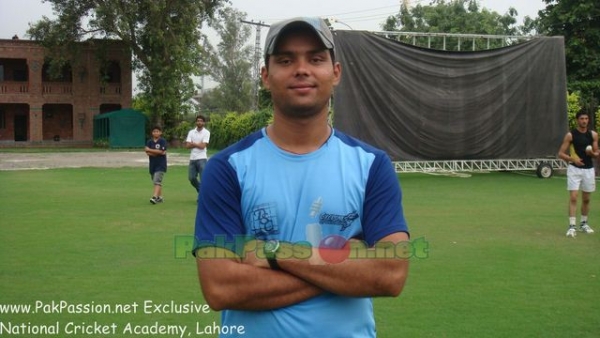 Khurram is a tall right handed opening batsman who has represented Pakistan in 7 one day internationals.
At only 16, Khurram Manzoor made an attacking 73 on first-class debut against Peshawar. He drifted off the scene for a couple of years, but came back strongly for Karachi Whites in the 2004-05 season, scoring close to 500 runs with two hundreds.
Manzoor came into national reckoning finally after scoring over 1,000 runs at 53.9 in the first half of the 2007-08 season. He played for Pakistan A against Australia A, before being drafted into Pakistan's squad for the final ODI against Zimbabwe in January 2008. He duly made his international debut in Sheikhupura, marking it with an impressive fifty.
Manzoor was the skipper of the Academy team that toured with grat success to Zimbabwe and Kenya in 2008 and his performances on that tour and back home in the 2008/09 domestic season earned him a call up for the 3 ODIs versus Sri Lanka.
Manzoor has since played 7 ODI yet seems to have found himself on the outer in the one day squad, with selectors reverting to openers who are more aggressive not necessarily more effective. Manzoor did however make his test match debut against Sri Lanka in Karachi. An unbeaten 59 in an abandoned match at Lahore, impressed the selectors and he was retained for the following series away to Sri Lanka. In the final test match in Sri Lanka, Manzoor missed his maiden century by 7 runs but with Pakistan struggling to find good opening batsmen, Khurram seems to have made the opening position his to lose.
Khurram is definitely seen as a long term solution to Pakistan's opening problems and more than likely has a very bright future ahead of him.
Last updated on 31 October 2012