PLAYER PROFILE
Asim Kamal
Name: Asim Kamal
Birth date: 1976-05-31
Hometown: Karachi, Sind
Teams: Pakistan, Karachi, Pakistan Customs, Pakistan International Airlines
Debut: Test: Oct 17-21, 2003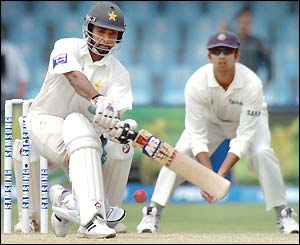 A gritty left-handed middle order batsman who has been a firm favourite with Pakistan fans but not the selectors. A very fine driver of the ball who represented Pakistan in 12 tests and averaged just over 37.73.

Perhaps the fact that Asim failed to score a century in any of his 20 test innings counted against him, but he did get very close to three figures. On debut against South Africa he made 99 and demonstrated his excellent temperament. Asim also exhibited an ability to bat with the tail but sadly fell out of favour in 2005.
His lack of flair may well have counted against him, as did the plethora of middle-order batsmen Pakistan had during this period, but his career ended with many believing his international career could have been extended.
[Last Updated: 24/12/2013]