PLAYER PROFILE
Mohammad Sami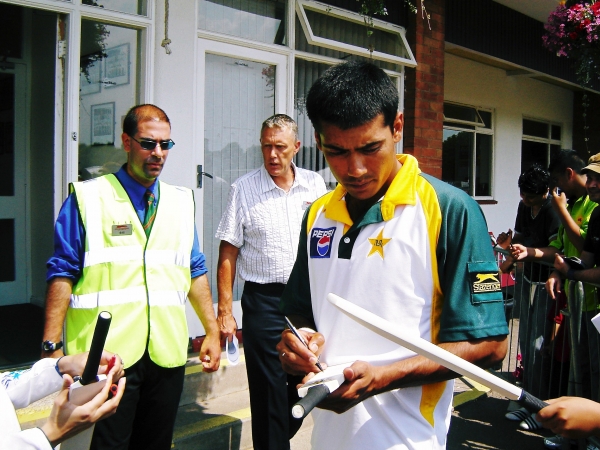 Name: Mohammed Sami
Birth date: 1981-02-24
Hometown: Karachi
Teams: Pakistan, ICL Pakistan XI, Karachi, Karachi Blues, Karachi Dolphins, Karachi Zebras, Kent, Lahore Badshahs, National Bank of Pakistan, Pakistan Customs, Sussex
Debut: 8th Mar 2001



Sami burst onto the international scene in New Zealand in 2001 with a fantastic burst of wickets against the Kiwis with a hostile spell of pace bowling and reverse swing. Sami's performance in that test match made Pakistani fans sit up and take note of this youngster and many hoped that he was the next in line of a conveyor belt of fast Pakistani bowlers who can reverse the ball at will.

Sadly though Sami's career spiralled downwards with inconsistent and disappointing performance after performance. Despite many chances and many false dawns Sami failed to show that form that he showed on debut in New Zealand. He still bowled quick but the accuracy, the lack of control and the lack of grey matter seemed to be the problem with Sami.

Having realised in 2008 that he was no longer an automatic selection for Pakistan after 33 tests and 83 ODIs, Sami joined the Lahore Badshahs in the Indian Cricket League. As with many other defectors, he eventually made his return back to Pakistan and after a stirling performance in the Domestic QEA Trophy including 8 wickets in the final he was called back into the Pakistani squad for the test series against Australia. On his return test match at the SCG he picked up the first 3 Australians, to have figures of 5-3 at after his first 5 overs. His was less successful in the second innings, although could feel unlucky that he was dropped for the following test match.

In June 2012, Mohammad Sami was selected for Pakistan's tour to Sri Lanka where his performances lacked consistency in all three formats. More recently, he was selected for the 2012 ICC Twenty20 World Cup where he only played the two warmup matches.

In summary his career has thus far been a major underachievment and disappoinment despite many chances. As Pakistan continue to rebuild their fast bowling attack resources, many fans will be hoping he may finally live up to his reputation. His recent performances on the tough pitches in domestic cricket have not been fruitful enough to catch the eyes of the selectors again.
Last updated 11th January 2014